A long, long time ago in blogland (3 months in real life) I began the process of making over my daughters old bedroom. I have talked about it here, here and here! My inspiration for the room was a variation of the Pottery Barn room below from the Fall Catalog.
I loved the headboard and ended up with a mantel instead of shutters but I adored the pendant lights. The price tag, however squelched my adoration a bit. Wonder Hubby urged me to order them but I just couldn't justify the expense for the guest room so.... I looked at my PB catalog longingly everyday and wished. One afternoon our spare daughter Bri was over and I was once again thumbing through my dog eared PB catalog when Bri said "you can make those." Make them? Although this is normally my first thought when I see something I like it had never occurred to me to even consider making them.
Wonder Hubby studied the picture and agreed that we could probably make them. I was now on a quest. First I had to figure out how close I could get with parts and pieces and second I had to find the parts and pieces. We visited lighting companies and salvage yards trying to locate the right pieces and eventually after some pretty heated words at Home Depot with Wonder Hubby over taking apart a pendant light, I pretty much conceded defeat and was ready to walk away. How could this man not see it is not a waste to take apart a $14.00 fixture to piece together a light that would save him $100.00 per light?
I promptly started a week of pouting that ended with Wonder Hubby admitting he had thought about it and had decided we could make it work. So before he had time to change his mind I shoved hustled him into the car and off we went to collect all the parts and pieces. He had created such doubt in me I spent the whole shopping trip with my fingers crossed that this would indeed work since I had spent so much time pouting convincing him it would!
We started with this pendant light kit.
Conduit
Assorted elbows, extensions and brackets.
A small wooden plaque.
We disassembled the pendent light kit using the "guts" and top of the light only. Then I painted the plaque, the hardware, the pendent light pieces and the conduit with Rust Oleum Oil Rubbed Bronze (love this stuff!). After a couple of coats and lots of drying time we were ready to get started.
Wonder Hubby pre-drilled the holes for mounting the plaque.
Then he located the studs. We were so lucky that the studs and the electrical outlets aligned perfectly!
We mounted the plaques on the wall and then threaded the wiring through the conduit. We had to wire the pendent light on once the conduit was mounted and also wire on the plug.
All that was left was too attach the globes...and ta da....my PB knock off lights!
I love the way they turned out. Everyone that has seen them has fallen in love too! In fact, I think we are going to have our own copy cats:) Total cost for both lights $70.00! FYI....I overheard Wonder Hubby telling a friend about these and it sounded like he was saying they were his idea and no problem to make....seriously? Thanks for stopping by.
I am joining Debbie at
and Susan at
Between Naps on the Porch for Met Monday
.
and Kim at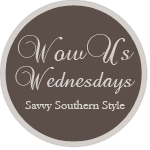 and Judy at DIY by Design
Becky @ Beyond the Picket Fence